I've tried many other website hosting providers, and Kinsta is not only far superior to most cPanel-based servers, but it's also better than most other competing managed WordPress hosting providers.
Kinsta eliminates the need for several additional plugins and significantly improves our websites' performance. We've experienced a marked improvement in website reliability and speed across the websites we managed. Let me walk you through our journey and why we believe Kinsta is the best option for hosting websites, particularly for client websites we promote through SEO or PPC. 
How does Kinsta work?
Most web hosts operate by offering the base server (sometimes with cPanel/WHM provided) and then offering you all of the tools you need to install WordPress, manage your database, and run your own server. Kinsta, on the other hand, doesn't give you any access to the server and instead provides you with a pre-installed WordPress instance from which you can set up your website.
The difference is significant. While most servers are only responsible for keeping their server online, Kinsta's scope of support is far broader. Because Kinsta is one of the only web hosts who support the server and the WordPress installation, your responsibility for system administration is virtually eliminated.

By supporting and maintaining our WordPress installations, Kinsta takes over many of the complex and riskier parts of keeping a website live, including maintaining and optimising the database, server-level security, website backups and hardware–software conflicts. Even though their responsibility ends with providing a stable WordPress installation, Kinsta also provides some support for issues faced in the WP admin dashboard. 
Increased website reliability
Since switching to Kinsta, we've seen a significant increase in our website reliability. Technical issues that used to cause downtime have become virtually non-existent, and the performance under heavy traffic is very good.
With other cPanel-based servers, I've seen issues with offsite backups and log files growing uncontrollably. This causes resources to be completely consumed, so things like the mySQL process can't run. Unlike the shared server resources situation under WHM, Kinsta offers a completely separate environment for each website, ensuring that issues with one don't impact the others. This is a critical feature that greatly enhances website stability. Furthermore, Kinsta's server-level cache and its partnership with Cloudflare for its CDN services ensure that resources are efficiently served, improving load times and the overall user experience.
Kinsta's uptime monitoring system is vastly superior
There are many third-party uptime monitoring tools to check if your website has gone down. However, my experience is that most are unreliable due to frequent false positives. Most hosting providers have security protocols that interfere with third-party uptime monitoring, leading to those tools detecting that a website has gone down, when it hasn't, resulting in unnecessary alerts. This leads to a situation where actual downtime is difficult to discern from false alarms. In contrast, Kinsta's integrated monitoring system only alerts us of real issues, which are rare. Most commonly, these are caused by actions like exceeding a media upload limit, situations we're already aware of and addressing. It's a far more trustworthy monitoring system than a third-party one. Furthermore, the built-in nature of these features eliminates the need for external plugins, and, by extension, their expenses. This makes Kinsta a far more reliable and cost-effective solution for our needs.
The website security provided by Kinsta is much better
The security of our servers is markedly better with Kinsta. Kinsta's security guarantee includes robust active and passive measures to stop attacks in their tracks. They offer constant monitoring for uptime, DDoS attack detection, software-based restrictions, SSL support, and hardware firewalls. Furthermore, they enforce tight software-based restrictions and provide automatic backups, adding an extra layer of safety.
Kinsta has an inbuilt integration with Cloudflare CDN, which offers a reverse proxy safeguarding the server against DDoS and other external threats.
We still use Wordfence on our websites but have a much greater level of confidence with the server-level security provided by Kinsta.
Website speed is better, and CDNs, caching plugins and server optimisation are all done for you
Kinsta's dedicated WordPress environment has significantly improved our websites' speed and overall performance at Paramark. Unlike cPanel-based servers, where you often need to invest substantial time and money into setting up caching plugins and CDNs, Kinsta has these features built-in. This seamless integration of services eliminates the potential for interactions that might degrade website performance.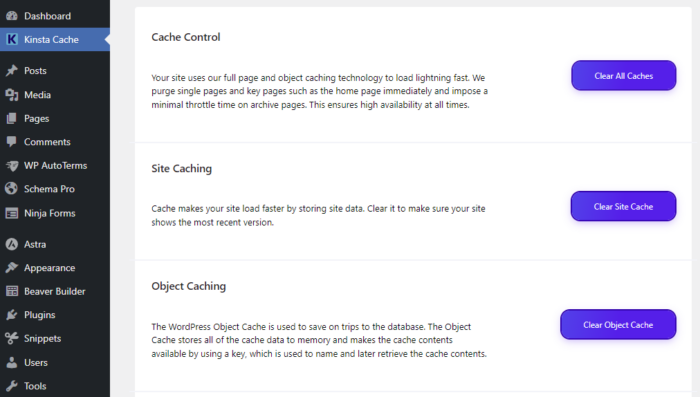 By managing these aspects at a server level, Kinsta eliminates the need for individual plugins and enhances the underlying performance of our WordPress websites. The result is a faster, more reliable, and more robust web experience for our users.
Website management is much easier
When it comes to website management, Kinsta offers a far superior experience compared to traditional cPanel hosting. One standout feature is Kinsta's delegated access. Unlike most cPanel hosting setups where granting developers or team members access means handing out the admin username and password, Kinsta makes this simple and secure. Access can be provided to team members who each have separate logins, with multiple tiers of permissions. You can check to see if they've switched on 2FA for added security.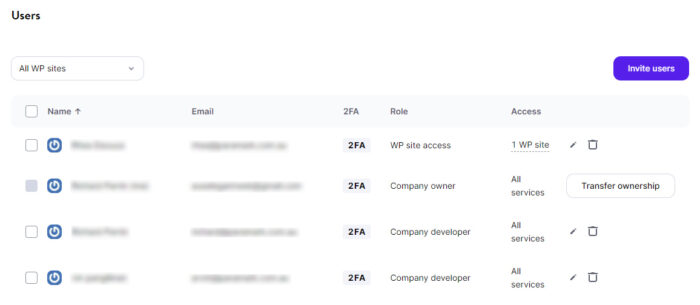 In terms of technical support, Kinsta truly shines. The support team are WordPress experts, who respond to issues in the live chat within minutes. This is significantly better than most other providers' ticket-based systems, where you never know how long you'll be waiting for a response. Kinsta support is also proactive, if a website goes down, they'll automatically attempt to respond by restarting the PHP engine or clearing a server cache.
Creating staging sites and migrations is much easier as well. Every new Kinsta website environment you create includes a .kinsta.cloud domain, meaning you can create a new website on a staging site separately from a live site. Making the new staging site live is as simple as changing the primary domain and running a search and replace. Importantly, you don't need to point the domain to Kinsta until you're ready to switch over. This is a stark difference from the messing around usually required with cPanel and Softaculous which typically involved a separate staging domain and migrating the staging site to live using local host.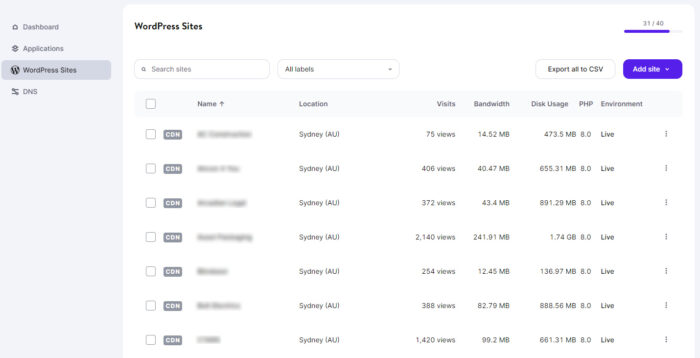 Conclusion
At Paramark, we're responsible for maintaining the websites of clients who get hundreds of visitors per day. We can't afford to use anything but the most reliable and secure website hosting we can get, which is why we use Kinsta for the websites we manage.
The inherent monitoring system of Kinsta outperforms third-party plugins, providing dependable notifications only when a real issue arises, thereby eliminating the risk of false positives. This feature, combined with the unparalleled security and reliability of Kinsta, gives us peace of mind and ensures our clients' websites are always available when they need them.
Moreover, the speed offered by Kinsta is simply remarkable. With its integrated resources such as CDN plugins and caching, our websites are faster than ever. These components are readily available, eliminating the need for hours of configuration. Since migrating to Kinsta, the benefits have been undeniable, marking a significant improvement in the performance and security of our clients' websites.